DINO FACTORY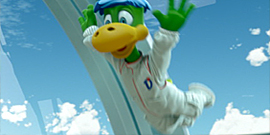 We're proud to present the second TVC from the Dino series.
As the previous series "Dino Cosmos", this commercial was fully made in 3D animation technique, and once more we've able to demonstrate our potential in character animation.
This time in the spot, except already well known heroes, appear new characters, like a cow, a honeybee, a hedgehog and Zluka's accomplices: a colouring agent and a preservative.

In spite of their walk-on part, all characters have been developed proper at all the stages: from the sketches and models approval to the small details elaboration.  As we believe, that it's really important for TVC, which is intended for the long rotation and have to keep the effectiveness.
In "Dino Factory" spot the action takes part on interior (control panel room, factory's workshop), and on exterior locations (garden) as well, and both of them are fully made in 3D, including such details like grass and plants.
The render of TVC was made in High-Definition, even in spite of the fact, that on the TV it appears in PAL standard. Because for us the quality of the work is invariably important, and HD gives five times better quality than PAL, meanwhile the Studio pipeline can let us expend almost the same time and sources for the HD render.
Now A-VFX Studio is working at the third TVC from the series, so "Dino Sea" is coming soon!
Production period: 2 month
Client: Groupe Danone
Agency: Young & Rubicam
TVC Director: Victor Luckysov
Line Producer: Inga Aslambekova
CG Supervisor: Kir Skaletski
Lighting TD: Alexey Mazurenko
Character animator: Tatyana Mikhina
Lighter: Pavel Smirnov
Compositor: Anna Yakovleva
Modeler: Kirill Soltus