TVC «Chester Treasure Hunt»
Our studio has completed work on new commercial «Chester Treasure Hunt», requested by «BBDO Saudi Arabia»
agency for Saudi Snacks company  (Pepsi&Co sub-brand), action takes place in jungles.

Actually, first concept of the future work was born almost a year before. For that moment we already had a proven-good working experience with international agencies such as BBDO Cairo, Spain, Poland.
«Chester Secret Lab» was our first result of mutual work with «BBDO Saudi Arabia» in the beginning of 2008 year. While working on the first project we received storyboards for a new one — «Chester Treasure Hunt» (production started only in March '09). On this project it was important that we managed to perform ourselves not only as artists but creators as well. Victor Luckysov, director, says that "it was a really creative process! From the very beginning you realize that you're working with a professional team, where every member is responsible for it's own part of work".
" It was not a standard approach,- describes her impressions Inga Aslambekova, A-VFX producer- Everybody knows that the presence of project producer & director is obligatory for PPM. But in our case, director couldn't come to Dubai up to a certain date, so we had nothing but to get the agency to make the on-line skype conference Moscow-Dubai. Initially, our idea was met with not a big enthusiasm, to put it mildly… But as the result everything turned out to be great. Both sides understood each other without problems".
Although we communicated via e-male,- describes his impressions Victor- meeting was held on a positive level. While discussing the final version of animatic I got some new ideas- for example, to add more "live", anyway, it is jungles..nature. In the very beginning we added two new characters- a caterpillar & a bird. During the plot the bird is involved in different comic situations, that adds vivacity to the scenario. In addition to main 30 seconds we've made 7 seconds' new product Cheetos Flaming Hot promo-tag. Where Chester has fired the bird, not to the death, of course.
Then, two weeks later we had the animatic ready. On production stage the models were worked out as precise as possible so that it was possible to give it for further work to animators- Mihinoy Tatyane & Olge Baulinoy, which allowed to save time & resources.
"From the very beginning we' d understood the scale of the project, as we had a task to make 30 seconds full CG within a certain period- one month- explains Kirill Skaletsky, vfx-supervisor.- We need not just standard decisions & precise pipe-line".
Together with the art-director Igor Sandimirov & the artist Sergey Klyachkin were selected the shots where matte painting could be applied.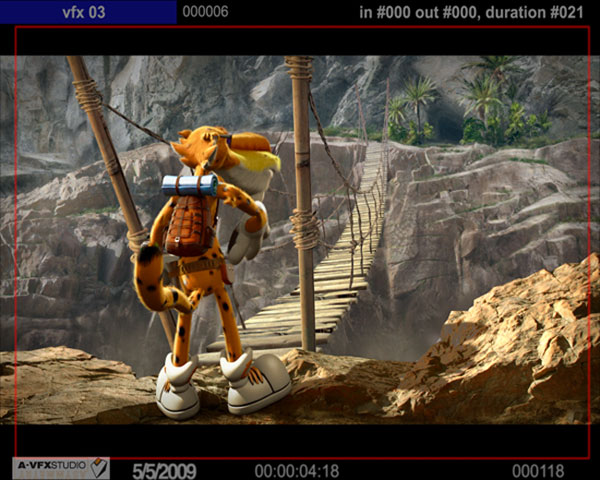 Here the canyon & BG are matte painted.
It helps a lot, as we got a chance to save time & resources for oncoming render…Because of a big amount of work it was decided to divide the whole process into the sub-groups for artists could work at the same time:
Animation
BG matte painting according to ….
Modelling
Render setup according to the location types (meadow, canyon, cave)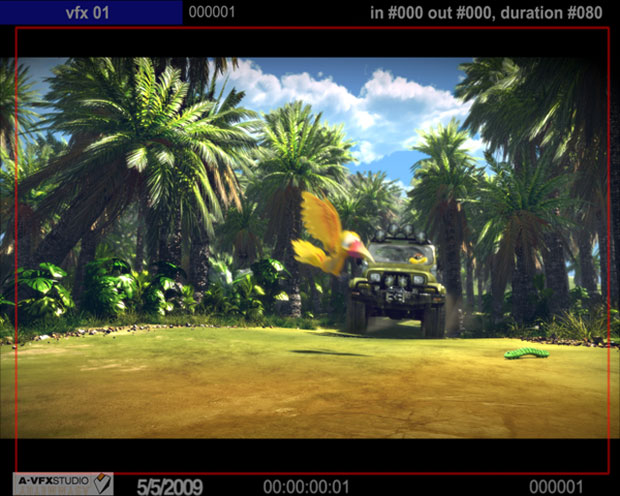 "We've decided to make everything HD, although the client didn't demanded it. The matter is that very soon High Defenition format will substitute traditional PAL on TV, as it has already happened in Japan- explains Kirill- That is why now we're transforming our working system regarding HD format. Before that we managed to test our possibilities in this format – made a 6-minutes' series for 3D cartoon serial "Masha & the Bear", that allowed us to work in HD on this particular project without feeling risk" .
Some production "secrets" were revealed by Alexander Isakov, rendering artist: "In the first shot we see approaching jeep, and dust coming out from under its wheels.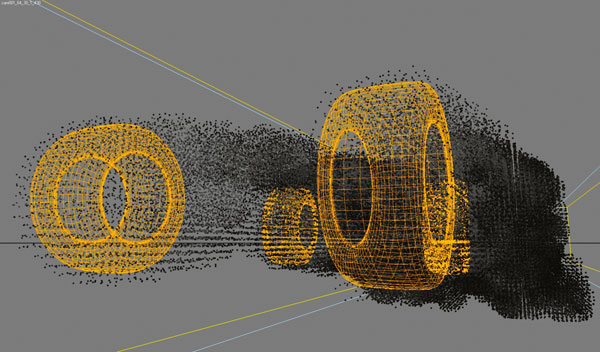 To create such an effect we used smoke simulating program, as dust is quite  similar to it. In other words, we  "fired" the wheels in 3D-scene & then adapted simulation image so that it looks like dust.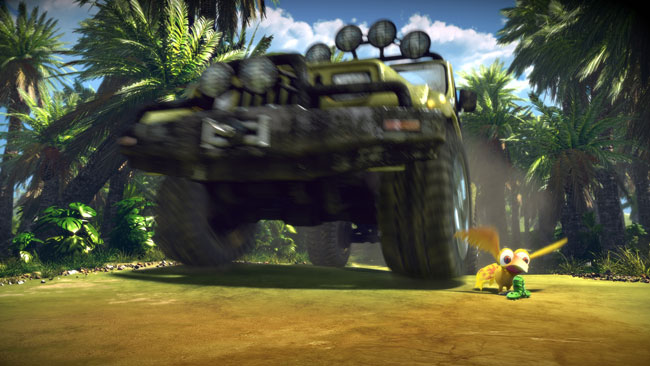 The same technique was used to create dust after cave destruction»
Anyway there were lots of interesting solutions: «In our work we used different software tools, in many scenes we rendered Chester & the surroundings separately. To merge two layers we need to test how Chester interacts with the environment. So we put into the jeep & cave scenes simplified (without fur) Chester phantom-model invisible to camera, but casting shadows & visible in reflections.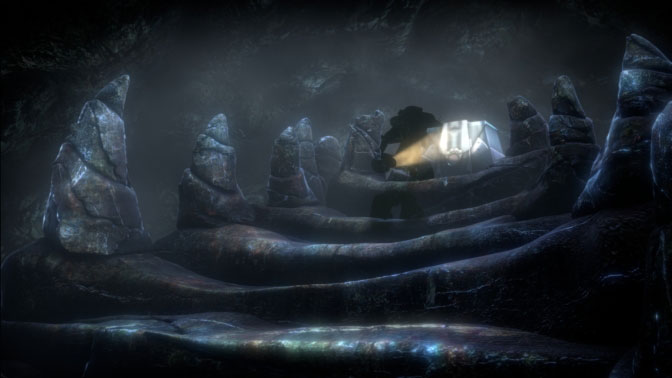 All we had to do- apply layer of Chester & correct the colors. It was really interesting to work with the cave- we have to show cold, sullen extramundane part of environment, where Chester has come to, playing on the contrast with bright, sunny grandeur of jungles.
For this purpose we painted textures carefully & set special shaders for stone surfaces, reflecting light unevenly.
Flickering spots were added on stones' surface, with ore & mineral threads of different colours. So that with every camera movement there will appear beautiful sparkles. To show environment depth & humidity we rendered separate layer with particles of different density suspended in the air.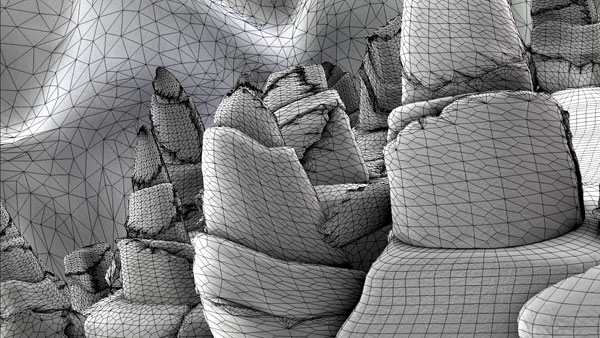 As render is the most resource-intensive stage of production, but cave interior was made in 3D with high detailed elaboration we need to find a solution to reduce render-tests as much as possible. For this purpose we made a simple render, not a final-looking, but  with lots of additional layers.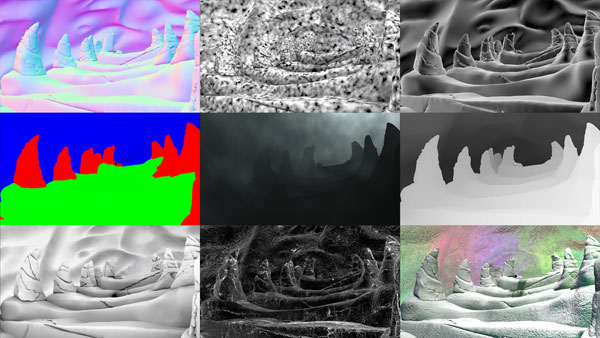 These layers gave the possibility to trim or if necessary to change overall lighting & shading, not getting back to 3d render.
Thus, almost half of the whole rendering process was made on compositing stage, which gave significant bonus to speed & flexibiliy while making corrections.
If to speak about the mood of the work in general- «The result turned out to be very intensive & dynamic!»- says Victor Luckysov. Initially we planned the story for 40 seconds, but when the final variant of the animatic was approved it shortened up to 30 seconds while the plotline remained almost the same. So, we got 3 different locations changing in a very short period, tempo is high but there is no «annoying fuss».
As strong points we'd like to mention it's strong technical backup & at the same time lightness & vivacity it leaves. Feel it yourself)
Length: 30 sec + 7 sec
Production period: 6 weeks
Client: Saudi Snacks ( sub-brand Pepsi&Co)
Agency: «BBDO Saudi Arabia»
Production: Asymmetric VFX Studio
TVC Director: Victor Luckysov
Producer: Inga Aslambekova
Team: Tatyana Mikhina, Olga Baulina, Igor Sandimirov, Sergey Klyachkin, Kirill Skaletsky, Alexander Isakov, Alexey Salenkov, Pavel Smirnov, Anton Maslov, Kirill Soltus, Vladimir Iustinov, Alexey Mazurenko, Egor Chaschin, Anna Yakovleva
Technical specifications : HD-format (1920×1080 pixels), 25fps
Software: Softimage XSI, Maya, 3dS MAX, Pixar Renderman, Vue, Photoshop