Ленин-оборотень
This is how we created Lenin-werewolf for the comedy «The Best Movie 3D»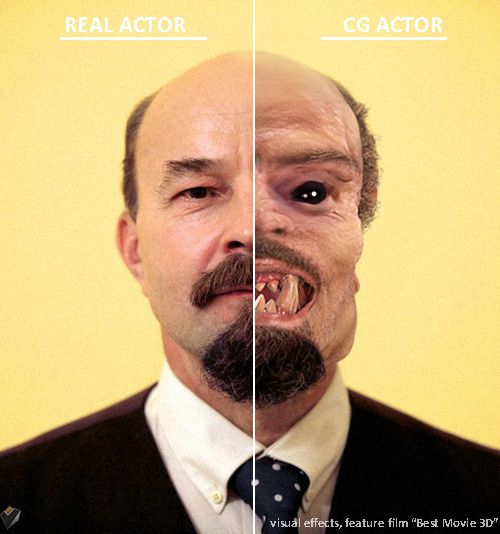 Creation of the character, video lasts one nad a half minute:
THE IDEA
The character Lenin-werewolf was made for the comedy movie, so the style was supposed to be on the edge of horror or parody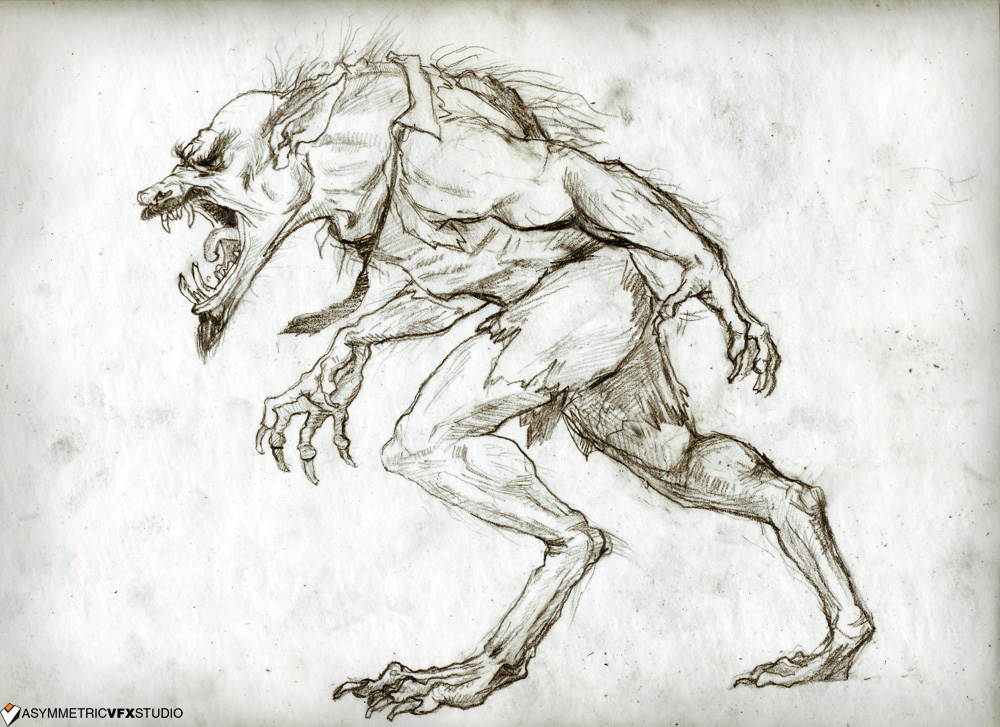 We started with stereotype ideas about werewolves, presenting the character with wolf's muzzle but immediately it became clear
that it didn't answer to the movie genre.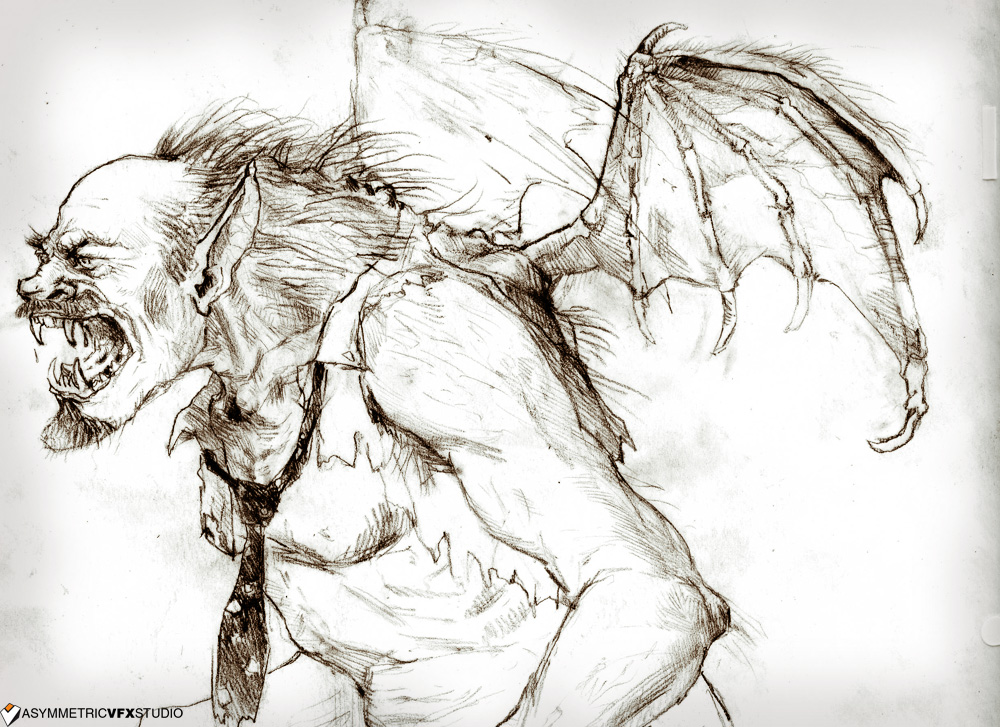 As a result, we decided to make portrait likeness and more human anatomy for the character.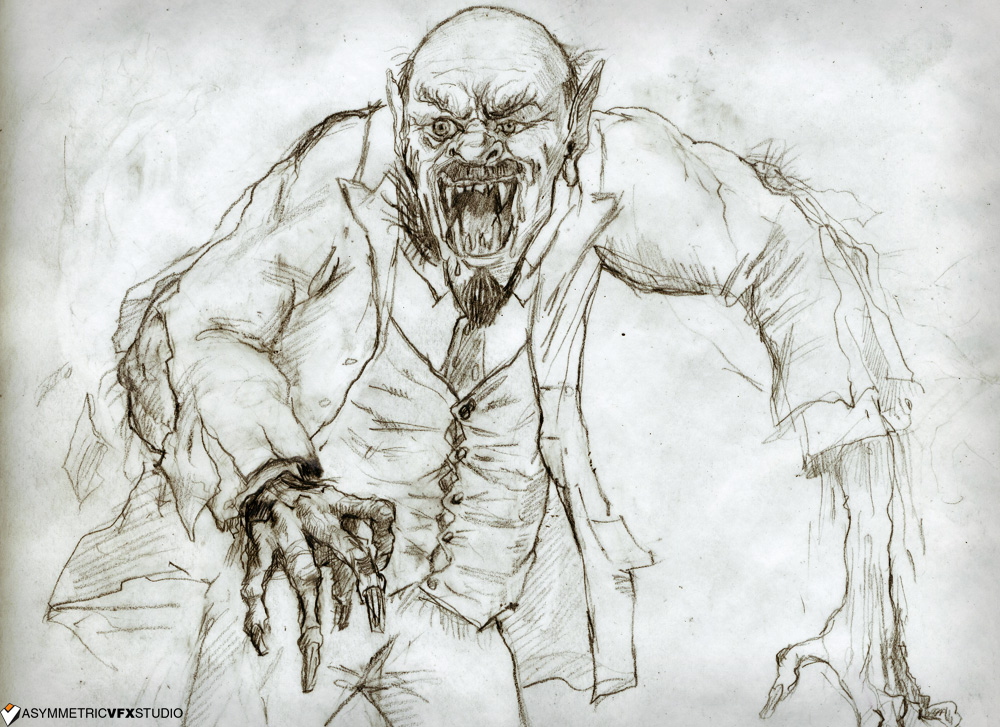 It was drawn about ten different versions of the character during the process.
CREATION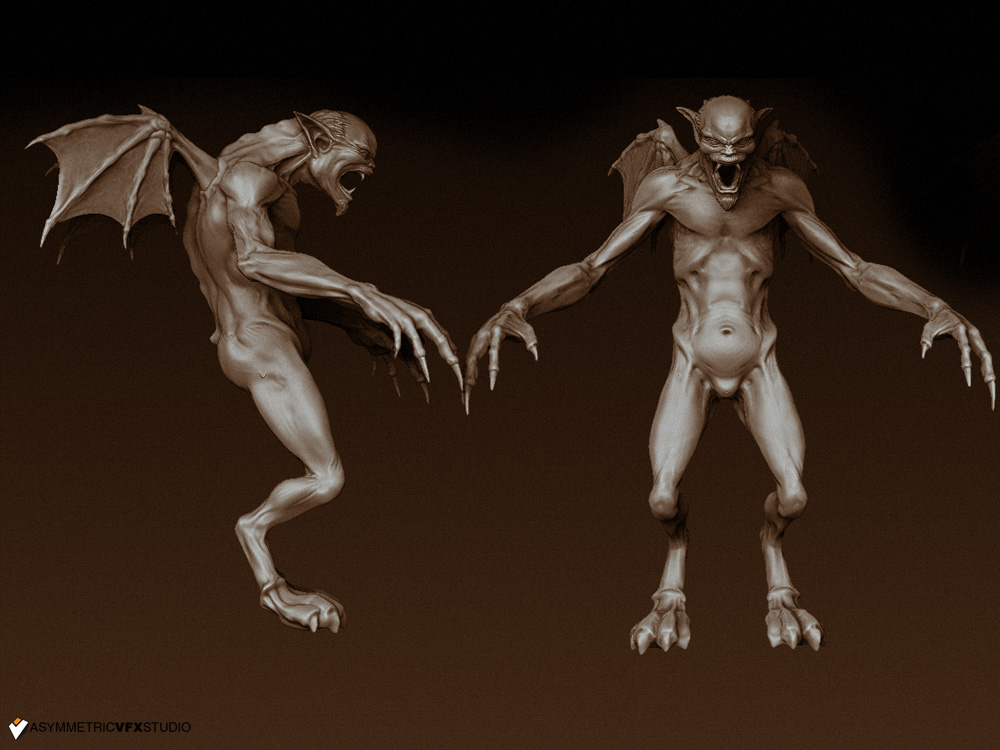 A werewolf 3D model was made before the shooting, that is why it was made by artists in full-height from each sides, as at that time it was not clear which part of the character would be exactly  in a shot. Later, it was known that legs and back view would not be in the shot.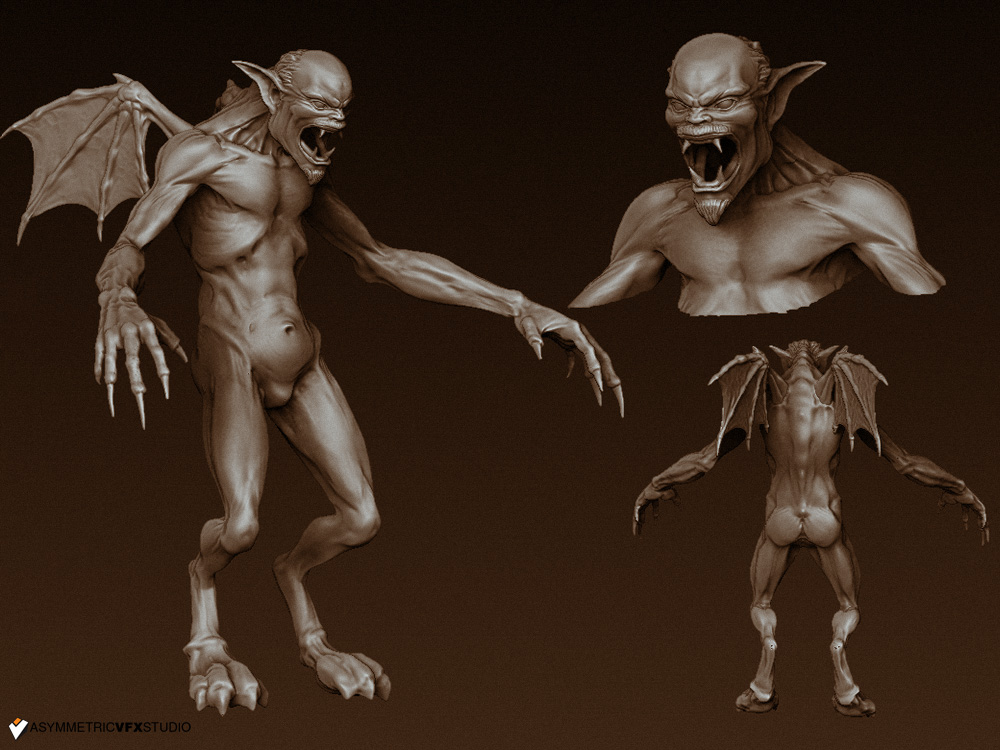 Programme Zbrush was used in modeling of the character.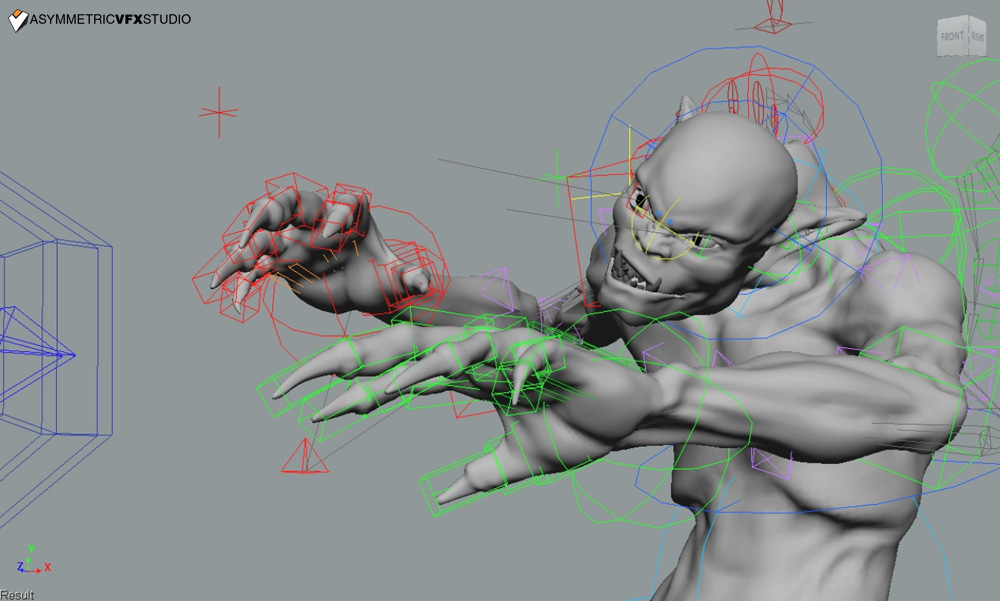 The model was prepared for animation in programme Softimage XSI: skeleton and controls were  made for the character.
THE SHOOTING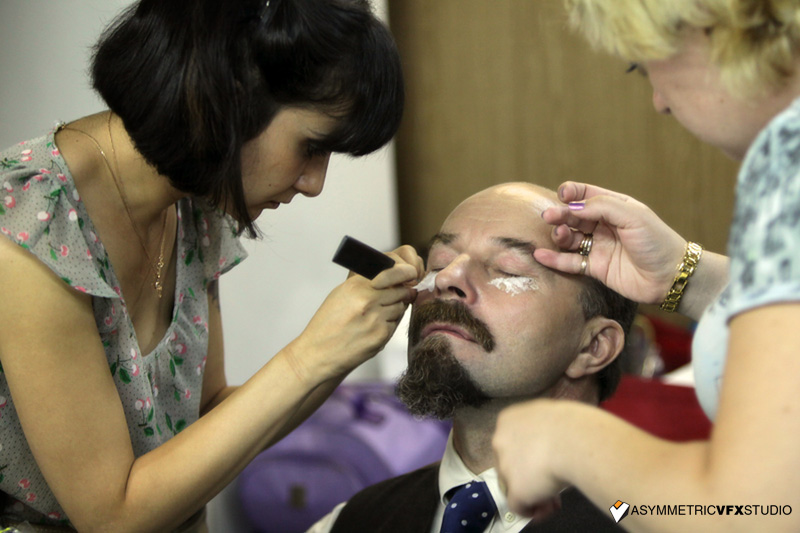 Lively eyes of the actor were left for the intermediate steps of the actor transformation in the computer werewolf. For this purpose makeup artists made a special plastic make-up on the eye socket and put a contact lens with an animal eye apple in.
Then a supervisor put marks on the actor's head to make possible to attach 3D werewolf head in the computer later.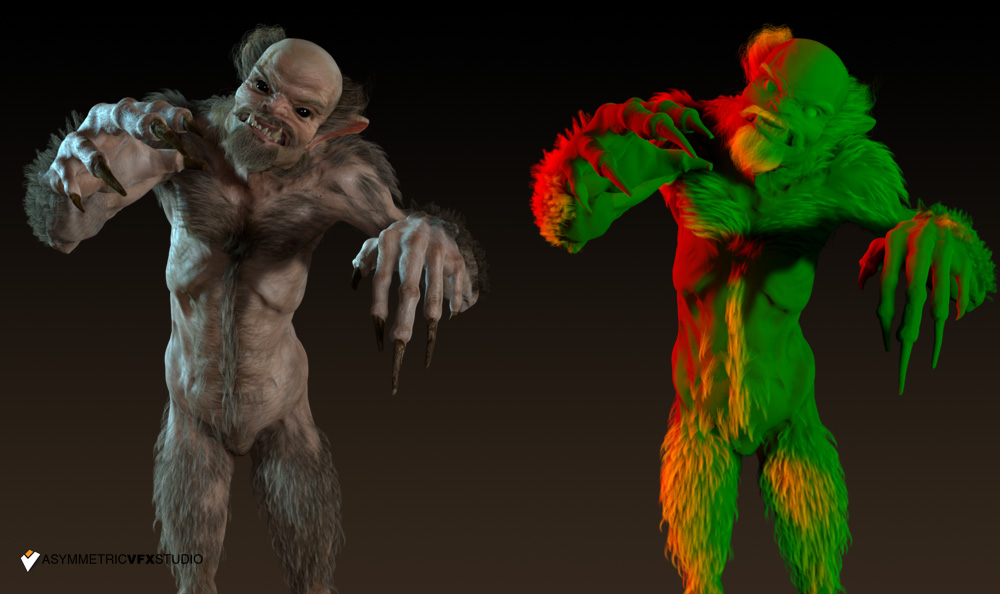 The full-height model virtualization (render) were made  to see automatically the texture of werewolf  through the holes in the clothes. Programme Pixar Renderman was used for render.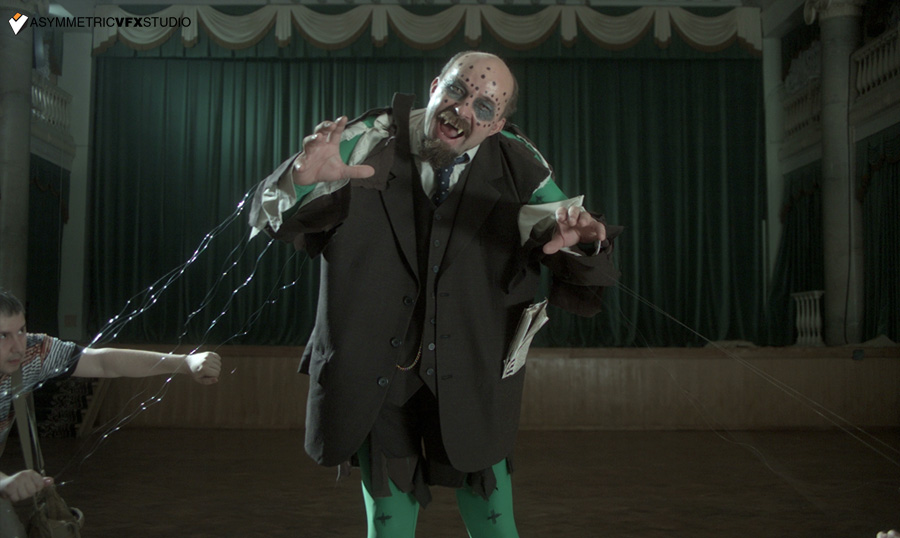 The transformation into werewolf occured in several steps, at each step certain part of the clothes was torn. At a definite actor's action Supervisors tore the clothes using fishing line attached to the clothes. There was chromakey overall underneath the actor's suit.
Dressers prepared two sets of the clothes for the shooting of tearing. All the holes on the clothes were defined and torn in advance and then were sewn with thin threads.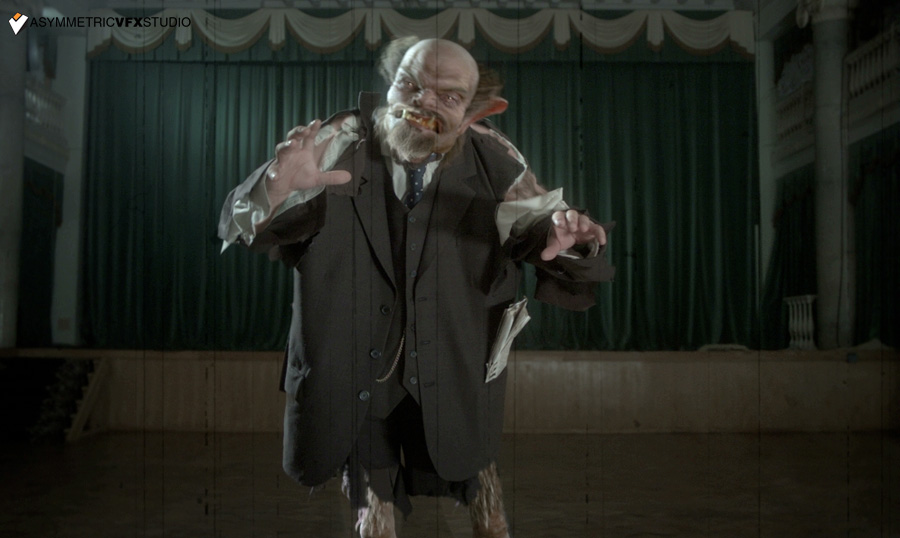 According to the Director's intention, scene with werewolf had to be stylized to black-and-white chronicle. But for the correct color rendering we made werewolf fully colored with a normal skin texture suitable for werewolf. After that a layer of fake scratches and film dirt was laid on a video.
And then at color grading step a colourist changed the scene into black-and-white chronicle. As for the composing for all the shots we used The Foundry Nuke programm and for color grading of the movie – DaVinci Resolve.
Asymmetric VFX Team:
VFX supervisor:  Victor Luckysov
Assistant VFX supervisor: Elena Gulyashko
Digital composers: Vladimir Kozhekin, Sergey Klyachkin, Anna Yakovleva, Anna Silakova
Camera tracking: Vladimir Iustinov, Anna Kotova
Digital sfx: Sergey Shlyaev
Artist: Irina Kovtun
Lighting TD: Aleksey Salenkov
3D modeler: Kirill Soltus
Animators: Victor Luckysov, Maksim Evgrafov